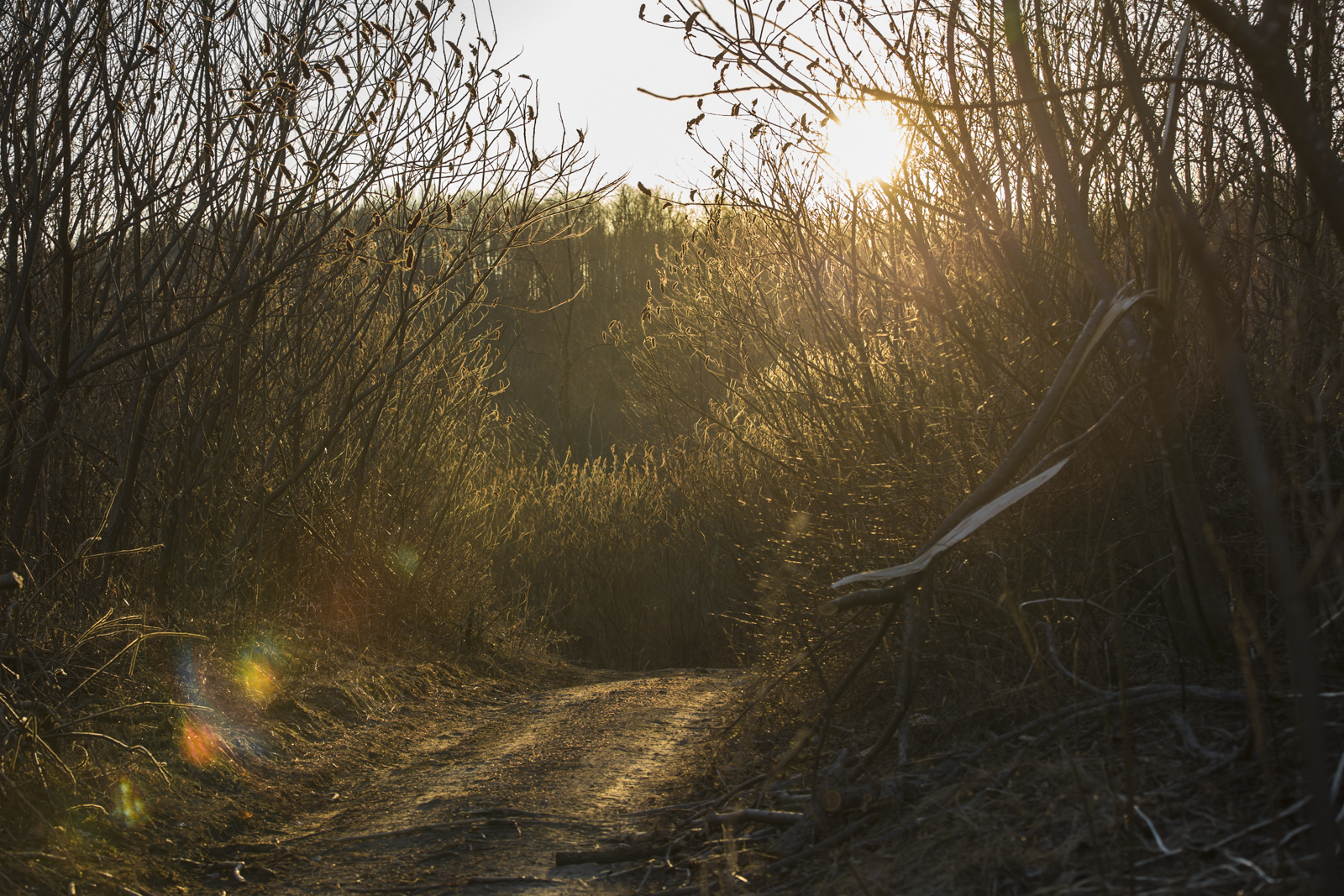 Today's the last day of winter quarter at Savannah College of Art and Design and the next quarter doesn't begin until the 24th, so I look forward to more Photo Excursions and additional photo experimentations during the break. For now, I'll show you more of the exposures I got from this past photo excursion and my experience with photographing the sun. I'd not really done as much golden hour photos as many photographers had in the past, so I will highlight the nice golden colors you get from that here:
You'll notice that as the sun gets lower in the sky, the more diffuse shadows become in certain areas, but also there is this dramatic glow that becomes more red as the sun goes down. This image isn't one to sell, but it highlights an important lesson in terms of understanding how color changes over time in terms of natural lighting. That plant is a Sumac, by the way. It's a plant found in the Eastern United States. Apparently it is used as a spice in order to deliver a tart flavor to foods but be careful to avoid picking any poisonous Sumac, because that also exists although it's not as common. The leaves are similar. Anyway, toward nightfallthe sky began to look morered as it lowered below horizon, like so:
This is nightfall, dark blue skies, and a nice jeep. Have a great Friday!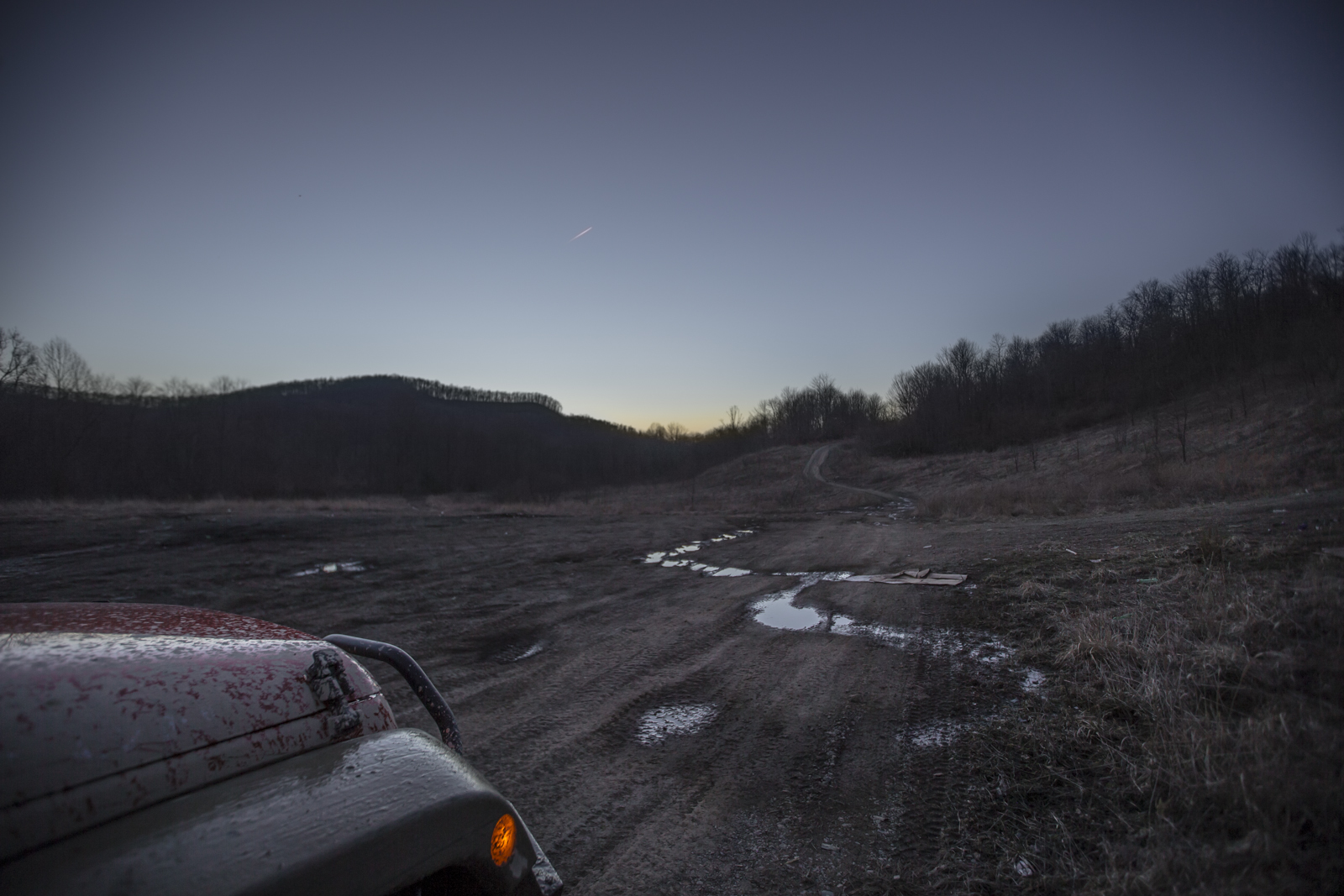 Yesterday I and a few buddies took a jeep out to explore some treacherous terrain around the Cool Ridge to Coal City region of West Virginia, starting out around John Lane Road in Cool Ridge.
The four of us started out about 4:30 pm and drove on well until after nightfall, so I got the chance to practice with a bit of starry sky photos. I will say, I did not expect to feel so tired from riding in a vehicle, but all the driving through creeks crossing the road and over so many rocks and up and down steep hills was apparently enough to make my muscles ache. At any rate, here's the starry sky.
I'm not sure exactly where we were here. The GPS didn't work for whatever reason--I'm pretty sure I'd absentmindedly unscrewed it while sitting in the backseat, and I think we were in some part of Cool Ridge.
For the photographers out there.... The ISO was at 12800 so you see a decent bit of luminance noise there, also shot at 0.5 seconds at f/2.8 aperture, so that adds up for a more blurred depth of field but the slower shutter speed did allow the light to blast in better. I would like to try this in the future with and without a three-legged tripod to reduce camera shake (causing the blurry outcome) with lower ISO, (to reduce luminance noise), slower shutter speed, and tighter aperture for greater depth of field... and also without a tripod at a similar ISO to reduce camera shake, slower shutter speed for greater light reading, and tighter aperture (higher f/#) for greater depth of field...although I'm not sure if the greater depth of field will be necessary at dark because the only things that will really come through are the two-tones of shadows against night sky color, and the stars peeking out between the sticks.
Alrighty then, that's enough for today. Tomorrow I plan to write on photographing the sun at golden hour because I got some interesting shots that way as well.
Where are some of your favorite places to visit in West Virginia? Feel free to let me know by writing suggestions in the contact form below.
[contact-form][contact-field label='Name' type='name' required='1'/][contact-field label='Email' type='email' required='1'/][contact-field label='Website' type='url'/][contact-field label='Comment' type='textarea' required='1'/][/contact-form]